COMIC CONVOY – UNDEAD TOUR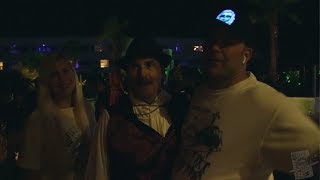 UNDEAD TOUR
OCTOBER 28th, 2017 – OCTOBER 29th, 2017
DUSK TIL DAWN
Comic Convoy Undead Tour: From the same crew that is taking off in the Comic Con world. Comic Convoy presents BB Ingle's 33rd Annual Halloween Bash.
The Convoy will also be bringing the Ghostbuster's Hearse, the Flaming Phantom, their Joker Motorcycle, and Scooby Doo Mystery Machine. They'll also be armed with their professional FX Team the Backstage Artists. Wolf Pack vs Zombie Herd Día de Muertos Dodge Ball match-up.
They will all take over the Hard Rock Hotel in Palm Springs on October 28th, 2017 (with afterhours parties going into October 29th, 2017). Thousands of Attendees in Costume, 3 Floors, 7 Venues, $75 Open Bar.
Only $20 Admission with Dread Central and Comic Convoy Promo Code: UNDEAD20.
Press Here to Buy Tickets to Party with BB. $20 admission with Comic Convoy Prome Code: UNDEAD20
Also you can Drive up with the Comic Convoy's Famous Vehicles
                                          or
Round-trip Luxury Travel From San Diego to Palm Springs options are available but limited.
(For more details contact 858-500-2815)
(Escorted by Movie Cars & Motor Cycles, Professional Cos-players, and FX)
Accommodations are also available at Miracle Springs Spa and Resort but are limited.
(For more details contact 858-500-2815)
Press Here for Miracle Springs Spa and Resort Website
Nestled in the foothills of Palm Springs/Desert Hot Springs
Just minutes away from BB's 33rd Annual Halloween Bash
Just minutes away from Joshua Tree National Park
Our Featured Hotel Miracle Spring Resort and Spa has 8 Natural Mineral Spring Pools